During our recent trip to Patagonia, we visited both Chile and Argentina.  We liked the flora, fauna and folks in both countries, but wondered why they have had so much trouble getting along throughout their history.
Looking closely at a map–you notice that there is a section of their joint border in the southern Patagonian ice field, the third largest hunk of ice in the world, where they can't agree on where the border lies…even today.   Friends in both countries explained that this odd fact is because the mile-deep ice field moves.  Thus no one can demarcate a border line on the ground below it…and neither neighbor will give an inch to the other.
The last time they almost came to blows was in the 1990's.  It was over ownership of three small islands at the very southern tip of the continent, and the Pope had to intervene to calm things down.  We saw the continuing results of that latest of skirmishes as we drove by signs warning of active minefields along the border, where livestock and guanacos (wild llamas) regularly continue to be blown up by land mines.
Although the two neighbors have not been in a shooting war for awhile, their joint history is full of conflict.  Both countries had nasty dictatorships for years who regularly hurled insults at each other, if not bullets.
When Argentina's dictators went to war with the UK (another blog), Chile's dictators secretly helped the UK.  While the dislike has quieted from violence to surly jokes about each other, travelers remark how Chile's border guards can harass travelers coming from Argentina…and Argentina's guards do the same in return.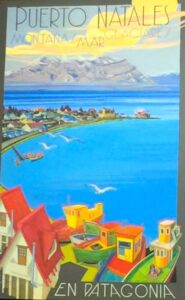 A friend of ours who works on cruise ships out of Ushuaia, Argentina's southern-most town, told us that the Chileans routinely hold up truck shipments of supplies that must pass through a small section of highway in Chile to return to Argentine territory.  And so it goes.
When volcanoes erupt in the Chilean Andes, as they regularly do, the strong Pacific Ocean winds blow all the ash over into western Argentina, where sometimes it winds up a foot deep.  Airports must be closed for months.  Both countries have pointed jokes about what this proves about whose side God is on.  Chile's victory, finally, in soccer over powerhouse Argentina also stoked those feelings.
The two countries' competition even extends to Antarctica, where both have the only bases where families are stationed along with the researchers.  Argentina founded its "Esperanza" base at the bottom of the world in 1953 in an effort to bolster territorial claims
there, and in 1978 the dictators even flew in a pregnant woman so that they could claim the first baby born in Antarctica.
Not to be undone, in 1984, Chile's dictatorship set up their base, "Villa Las Estrellas", on the British-claimed South Shetland Islands.  To add further insult to Argentina's injury, chile claimed the birth there of the first baby "conceived and born" in Antarctica.  And  so it goes…